The Mark of Satan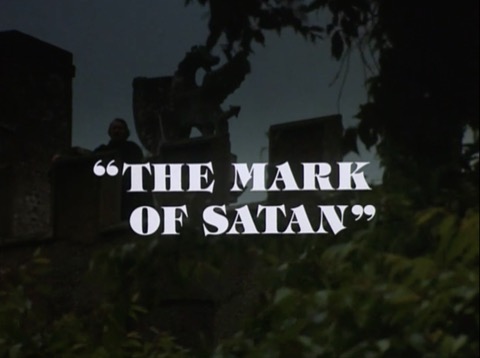 Jack Gill Presents "Hammer House of Horror" Copyright MCMLXXX
Chips Productions Limited. All Rights Reserved
The characters and incidents portrayed and the names used herin are fictitious and any similarity to the name, character or history of any person is entirely co-incidental.
A Jack Gill Presentation for Chips Productions Ltd.
A Cinema Arts International Production in association with Hammer Films for ITC Entertainment – An OCC company.
UK Transmission Date: 6th Dec 1980

Storyline
A worker in a hospital mortuary becomes convinced that a conspiracy of evil has chosen him as the devil's disciple. Those around him remain sceptical, believing that his rantings are a sign of insanity rather than a desperate cry for help from an innocent soul marked for Satan.

Crew
Story Editor
Designer
Director of Photography
Editor
Music Composed by
Musical Supervisor
Production Manager
Camera Operator
Continuity
Assistant Art Director
Assistant Art Director
Assistant Director
Special Effects
Casting Director
Costume Supervisor
Make-up
Hairdresser
Production Assistant
Sound Recordist
Dubbing Editors
Music Editor
Dubbing Mixer
Production Assistant
Gaffer
Lighting
Screenplay
Executive Producers
Produced by
Directed by
Anthony Read
Carolyn Scott
Norman Warwick BSc
Peter Weatherley GBFE
Paul Patterson
Philip Martell
Ron Jackson
Rodney Anstiss
Marjorie Lovell
Bob Bell
Richard Rooker
David Munro
Ian Scoones
Eileen Garstka
Laura Nightingale
Alan Brownie
Betty Sherriff
Margaret Nicholas
Stuart Edwards
Jack Night GBFE, Brian Tilling, Peter Best GBFE
Maurice Durham
Otto Snall
Mike Widd
Steve Birtles
Group Five
Don Shaw
Brian Lawrence, David Read
Roy Skeggs
Don Leaver

Cast

Edyn
Stella
Dr Harris
Priest
Dr Maunders
Markham
Sampson
Steve
Pritchard
Surgeon
Mrs Rord
Policeman

Peter McEnery
Georgina Hale
Emrys James
Anthony Brown
Conrad Phillips
Peter Birrel
James Duggan
Andrew Bradford
James Curren
Peter Cartwright
Annie Dyson
Chrispin Gillbard
Footnotes

Georgina Hale starred with Vanessa Redgrave and Oliver Reed in Ken Russell's "The Devils" 1971
Details were complied viewing the actual film.
Source of viewing copy – The Hammer Graveyard Collection