Guardian of the Abyss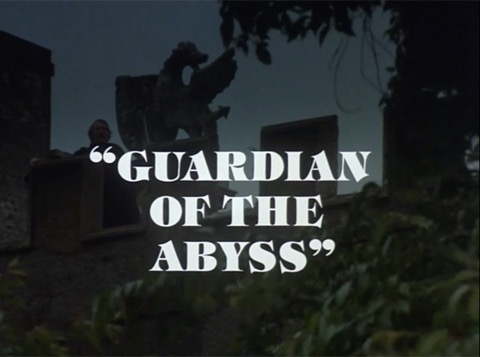 Jack Gill Presents "Hammer House of Horror" Copyright MCMLXXX
Chips Productions Limited. All Rights Reserved
The characters and incidents portrayed and the names used herin are fictitious and any similarity to the name, character or history of any person is entirely co-incidental.
A Jack Gill Presentation for Chips Productions Ltd.
A Cinema Arts International Production in association with Hammer Films for ITC Entertainment – An OCC company.
UK Transmission Date: 15 Nov 1980

Storyline
Michael Roberts joins his friend Laura Stephens at an auction and talks her out of selling her newly-acquired mirror to a mysterious man who seems excessively eager to have it. When Michael takes it from her to have it appraised, its occult powers put him in the path of Allison, who has just run away from a secret society that wants to sacrifice her in order to conjure up a powerful devil. The head of this society is Charles Randolph, an evil hypnotist whom Michael will find extremely dangerous.

Crew
Story Editor
Designer
Director of Photography
Editor
Music Composed by
Musical Supervisor
Production Manager
Camera Operator
Assistant Director
Continuity
Assistant Art Director
Assistant Art Director
Special Effects
Casting Director
Costume Supervisor
Make-up
Hairdresser
Production Assistant
Sound Recordist
Dubbing Editors
Music Editor
Dubbing Mixer
Production Assistant
Gaffer
Lighting
Screenplay
Executive Producers
Produced by
Directed by
Anthony Read
Carolyn Scott
Norman Warwick BSc
Chris Barnes GBFE
John McCabe
Philip Martell
Ron Jackson
Rodney Anstiss
David Munro
Marjorie Lavelly
Bob Bell
Richard Rooker
Ian Scoones
Eileen Garstka
Laura Nightingale
Alan Brownie
Betty Sherriff
Margaret Nicholas
Stuart Edwards
Jack Night GBFE, Brian Tilling, Peter Best GBFE
Maurice Durham
Otto Snall
Mike Widd
Steve Birtles
Group Five
David Fisher
Brian Lawrence, David Read
Roy Skeggs
Don Sharp

Cast

Michael Roberts
Alison
Charles Randolf
Andrews
Tina
1st Girl
2nd Girl
Auctioneer
Ray Lonnen
Rosalyn Landor
John Carson
Paul Darrow
Caroline Langrishie
Sophie Thompson
Sharon Fussey
Barry McDonald
Footnotes

Rosalyn Landor's first film was Hammer's "The Devil Rides out" (1968). John Carson played Dr Marcus in Hammer's "Captain Kronos: Vampire Hunter" (1974). Sophie Thompson played the girlfriend in "Torville & Mr Bean" (1995)
Details were complied viewing the actual film.
Source of viewing copy – The Hammer Graveyard Collection