Carpathian Eagle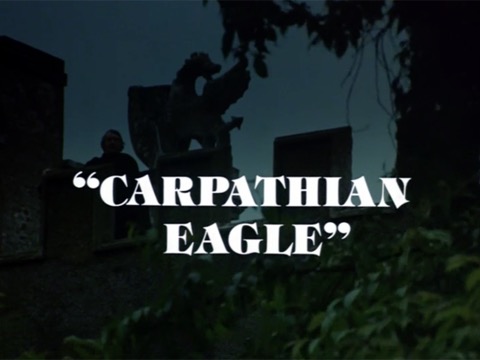 Jack Gill Presents "Hammer House of Horror" Copyright MCMLXXX
Chips Productions Limited. All Rights Reserved
The characters and incidents portrayed and the names used herin are fictitious and any similarity to the name, character or history of any person is entirely co-incidental.
A Jack Gill Presentation for Chips Productions Ltd.
A Cinema Arts International Production in association with Hammer Films for ITC Entertainment – An OCC company.
UK Transmission Date: 9th Nov 1980

Storyline
A serial killer rips out the heart of his victims, and Detective Inspector Clifford (Anthony Valentine) is in charge of the investigation without any lead. While listening to the radio, he becomes aware of a best-seller, in which the killer also removes the heart of his victims, and Clifford meets the writer, Natalie (Suzanne Danielle), and she tells that the character was based on a countess that lived centuries ago. Clifford asks for an appointment with the descendant, Mrs. Henska (Siân Phillips), who becomes his suspect number one. Although under investigation, the murders do not stop and Clifford tries to find other clue.

Crew
Story Editor
Designer
Director of Photography
Editor
Music Composed by
Musical Supervisor
Production Manager
Camera Operator
Assistant Director
Continuity
Assistant Art Director
Assistant Art Director
Special Effects
Casting Director
Costume Supervisor
Make-up
Hairdresser
Production Assistant
Sound Recordist
Dubbing Editors
Music Editor
Dubbing Mixer
Gaffer
Lighting
Screenplay
Executive Producers
Produced by
Directed by
Anthony Read
Carolyn Scott
Frank Watts BSc
Peter Weatherley GBFE
Wilfred Josephs
Philip Martell
Ron Jackson
Neil Binney
Ken Baker
Lorely Farley
Bob Bell
Richard Rooker
Ian Scoones
Eileen Garstka
Laura Nightingale
Eddie Knight
Daphne Volmer
Margaret Nicholas
John Bramall
Jack Night GBFE, Brian Tilling, Peter Best GBFE
Maurice Durham
Otto Snall
Steve Birtles
Group Five
Bernie Cooper and Francis Magahy
Brian Lawrence, David Read
Roy Skeggs
Francis Maghay

Cast

Cliff
Natalie
Mrs Henske
Tony
Tader
Andy
Police Doctor
Edgar
Baharach
Hospital Gardener
1st Victim
2nd Victim
3rd Victim
Police Woman
Anthony Valentine
Suzanne Danielle
Sian Phillips
Barry Stanton
Jonathan Kent
Matthew Long
Ellis Dale
Jeffery Wickham
Gary Waldhorn
Morgan Sheppard
Barry Stokes
Pierce Brosnan
Richard Wren
Diana Adderley
Footnotes

A number of famous names appear in this episode: Anthony Valentine, who appeared (uncredited) with Peter Cushing in "The Flesh and the Fiends" (1960), and with Christopher Lee in "To the Devil a Daughter" (1976). Suzanne Danielle who played the title role, Emmannuelle Pervert in the 1978 comedy "Carry on Emmannuelle". Gary Waldhorn, who played David Horton in BBC TV's "The Vicar of Dibley".
There was also an early appearance for, soon to be James Bond, Pierce Brosnan.
Details were complied viewing the actual film.
Source of viewing copy – The Hammer Graveyard Collection