The Woman in Black: Angel of Death – 2015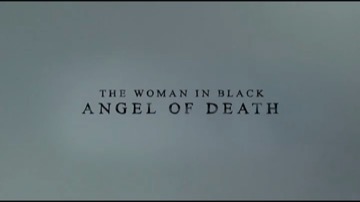 Hammer Films and Entertainment One present a Talisman Production in association with Hammer Films

Running time 98 mins

Storyline
40 years after Arthur Kipps' experience at Eel Marsh house, a group of children under the care of two women, escaping from war-torn London, arrive to the house and become the next target for the ghost of Jennette Humfrye, otherwise known as The Woman in Black. With the help of a fellow soldier, the women and children must fend off the spirit of Jennette Humfrye, and end her presence once and for all.
Selected Crew
Click here for full Cast and Crew listing on IMDB
Production Designer
Editor
Director of Photography
Hair and Make-up Designer
Costume Designer
Music by

Casting Director
Executive Producers


Co-Executive Producers

Co-Producers
Produced by

Screenplay by
Story by
Directed by
Jacqueline Abrahams
Mark Eckersley
George Steel
Cate Hall
Annie Symons
Marco Belitrami, Marcus Trump and Brandon Roberts
Julie Harkin CDG
Guy East, Nigel Sinclair, , Marc Schipper, Neil Dunn, Graeme Witts, Xavia Marchand, Roy Lee, Richard Toussaint, Wade Barker
Mark Roberts, Ross Jacobson, Sheldon Rabinowitz, jane Hooks, Ian Watermeier
Paul Ritchie, , Todd Thompson
Richard Jackson, Simon Oakes,Ben Holden, Tobin Armbrust
John Croker
Susan Hill
Tom Harper
Cast

Eve Parkins
Girl in Tube
Woman in Tube
Jean Hogg
Flora
Joyce
Fraser
James
Ruby
Tom
Alfie
Edward
Man at Train Station
Harry Burnslow
Dr Rhodes
Hermit Jacob
The Woman in Black
Alice Drablow
Ghost Children
Phoebe Fox
Merryn Pearse
Mary Roscoe
Helen McCrory
Amelia Crouch
Amelia Pidgeon
Casper Allpress
Pip Pearce
Leilah de Meza
Jude Wright
Alfie Simmons
Oaklee Pendergast
Thomas Arnold
Jeremy Irvine
Adrian Rawlins
Ned Dennehy
Leanne Best
Eve Pearce
Keanen Diaper, Oscar Cameron, Oliva Sear, Lucy Dawson, Natasha Wigman, Lexie Cook, Andreas Bazigos, Chloe Mitchell, Annabel Hindley, Katherine Brown, Georgina Vane
Footnotes
Adrian Rawlins, who plays Dr. Rhodes, played Arthur Kidd , the main character, in the TV movie version of The Woman in Black (1989). Additionally, Rawlins played Daniel Radcliffe's father in the Harry Potter series, Radcliffe played Arthur Hammer's "The Woman in Black" 2011.
This is the first Hammer sequel since "Frankenstein and the Monster from Hell" (1974).

Details were complied viewing the actual film.
Source of viewing copy – The Hammer Graveyard Collection