Let Me In – 2010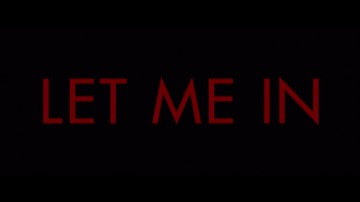 Overture Films and Exclusive Media Group present A Hammer Films Production. In association with ETFI

Running time 116 mins

Storyline
In Los Alamos, New Mexico, the twelve year-old Owen is a lonely and outcast boy bullied in school by Kenny and two other classmates; at home, Owen dreams of avenging himself against the trio of bullies. He befriends his twelve-year-old next door neighbor, Abby, who only appears during the night in the playground of their building. Meanwhile, Abby's father is a wanted serial-killer who drains the blood of his victims to supply Abby, who is actually an ancient vampire. Abby advises Owen to fight Kenny; however, soon he discovers that she is a vampire, and he feels fear and love for the girl. Meanwhile a police officer is investigating the murder cases, believing that it is a satanic cult.
Selected Crew
Click here for full Cast and Crew listing on IMDB
Production Designer
Editor
Director of Photography
Costume Designer
Visual Effects Supervisor
Casting by
Music by
Co-Producer
Produced by


Executive Producers

Based on the novel written by
Written and Directed by
Ford Wheeler
Stan Salfas A.C.E.
Greig Fraser
Melissa Bruning
Brad Parker
AVG Kaufman CSA
Michael Giacchino
Vicki Dee Rock
Donna Gigliotti, Alex Bruner, Simon Oaks, Tobin Armbrust, Guy East, John Nordling, Carl Molinder
Nigel Sinclair, John Ptak, Philip Elway, Fredrik Malmberg
John Avide Lindqvist
Matt Reeves
Cast

Owen
Abby
The Father
Owen's Mother
The Policeman
Virginia
Larry
Jack
Mr Zoric
Kenny
Mark
Donald
Nurse
High School Kid
Lanky Kid
Kenny's Brother
Girl in Pool
Video Arcade Counterman
Scottie Tate

Kodi Smit-McPhee
Chloe Grace Moretz
Richard Jenkins
Cara Buono
Euas Koteas
Sasha Barrese
Dylan Kenin
Chris Browning
Ritchie Coster
Dylan Minnette
Jimmy Jax Pinchak
Nicolai Dorian
Rebekah Wiggins
Seth Adkins
Ashton Moio
Brett Delbuono
Gwendolyn Apple
Colin Moretz
Robbie Orsatti
Footnotes
Director Matt Reeves explained why a deleted scene, showing Abby (Chloë Grace Moretz) being attacked as a human, was cut. (The scene was released on the Internet.) Contrary to the belief that the scene, depicting her being changed to a vampire and entering Owen's mind, would be too intense for the viewers, Reeves stated that he felt the scene would have disturbed the flow of the film. He remarked that he wished it would have been able to make the final cut.

The film was fifth among the ten lowest-grossing releases of 2010 from major studios (movies released in over 1,500 theatres).

Details were complied viewing the actual film.
Source of viewing copy – The Hammer Graveyard Collection