Dick Barton Strikes Back – 1949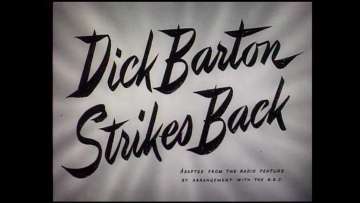 A Hammer production released by Exclusive Films by arrangement with Ted Kavanagh Associated.
Adapted from the radio feature by arrangement with the BBC.
Opening credit:- "The major part of this film was shot on actual locations. The producers wish to thank the following for facilities granted – The Tower Blackpool, American Overseas Airways, KLM Airways, The South London Electricity Board, The London Zoo."
Studio sequences filmed at Viking Studios, Kensington, London.
Recorded on the Viking sound system.
Screenplay by Elizabeth Baron and Ambrose Grayson from an original story by Ambrose Grayson.

Black & White 73 minutes
Storyline
Once again, wonder man special agent Dick Barton is called on to save Britain from almost certain disaster. This time he and his chum Snowey White do battle with ruthless foreign activists, who have developed a machine to blow up the town of Blackpool and annihilate its inhabitants!

 Click here to see the full film on YouTube
Crew
Director of Photography
Production Manager
Camera Operator
Art Director
Supervising Editor
Assistant Director
Make-up
Continuity
Supervising Electrician
Casting Director
Casting Manager
Musical Score
Associate Producers and Mae Murray
Directed by

Cedric Williams
Don Wynne
Peter Newbrook
Ivan King
Ray Pitt
Dicky Leeman
Jack Smith
Prudence Sykes
Jack Curtis
Edgar Blatt (Ted Kavanagh Associated) 
Mary Harris
Frank Spencer and Rupert Grayson
Anthony Hinds
Godfrey Grayson

Cast

Dick Barton
Snowey White
Fouracada
Lord Armadale
Tina
Robert Creston
Major Henderson
Colonel Gardener
Inspector Burke
Nicholas
Alex
Nick
"Schulman" 
Don Stannard
Bruce Walker
Sebastian Cabot
James Raglan
Jean Lodge
Morris Sweden
John Harvey
Humphrey Kent
Sidney Vivian
Tony Morelli
George Crawford
Laurie Taylor
"Flash"

Footnotes
Camera Operator Peter Newbrook eventually became a Producer. His credits include the 1967 horror film "Corruption", starring Peter Cushing.

Details were complied viewing the actual film.
Source of viewing copy – The Hammer Graveyard Collection