Sporting Love 1936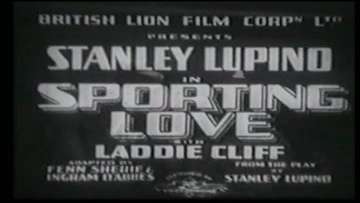 A British Lion Picture. A Hammer Production
Produced at British Lion Studios, Beaconsfield
Distributed throughout the United Kingdom and Irish Free State by British Lion Film Corporation Ltd. &6-78 Wardour St., London, W1. S.W.Smith Managing Director
Black & White 67 minutes
Storyline
Musical farce of two brothers in a continual trough of financial depression..
Crew
Production Supervisor
Scenario
Art Directors
Assistant Director
Photography
Film Editor
Sound Engineers
Adapted by
From the play by
Directed by

H. Fraser Passmore
Fenn Sherie and Ingram D'Abbes Norman Arnold and J Elder Wills (as Bunty Wills)
Parry Davis
Eric Cross
Hugh Stewart
Harold King and York Scarlett
Fenn Sherie & Ingram
Stanley Lupino
J. Elder Wells

Cast

Percy Brace
Peter Brace
Maude Dane
Nellie Gray
Gerald Dane
Lord Dimsdale
Aunt Fanny
Wilfred Wimple
Maid
Stanley Lupino
Laddie Cliff
Eda Peel
Lu Ann Meredith
Bobbie Comber
Henry Carlisle
Clarissa Selwynne
Wyn Weaver
Merle Tottenham
Footnotes
Based on the musical "Sporting Life" which was writtted by Stanley Lupino. Merle Tottenham also appeared in Hammer's "Room to Let" 1950.

Details were complied viewing the actual film.
Source of viewing copy – The Hammer Graveyard Collection