Frankenstein Must Be Destroyed – 1969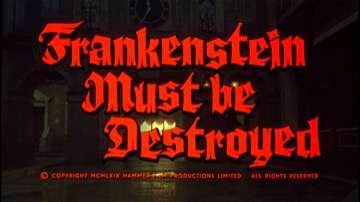 A Seven Arts-Hammer Film production released through Warner-Pathe Distributors Limited (UK) and Warner-Seven Arts (USA) Copyright MCMLXIX Hammer Film Productions ltd. – All rights reserved
MPAAApproved Certificate No. 22109
The characters and incidents portrayed and the names used herein are fictitious and any similarity to the name, character, or history of any person is entirely accidental and unintentional
RCA Sound System
Produced at Associated British Studios, Elstree, London, England
Technicolor 97 mins
Storyline
Posing as Dr Fenner, Frankenstein moves into a boarding house run by Anna Spengler. She and her boyfriend, Karl, are involved in illegal drug dealing, using supplies which Karl gets from the asylum where he works. One of the patients there is Dr Barndt, an old associate of the Baron's, who was driven hopelessly insane by their experiments and, when Frankenstein discovers Anna and Karl's illicit activities, he blackmails them into helping him smuggle Brandt out of the asylum. For Brandt's brain holds a secret which the Baron desperately needs and, in order to get it, he intends to operate on him and cure his insanity. But things go badly wrong during the escape when Brandt suffers a massive heart attack and now Frankenstein needs a healthy body into which he can transplant Brandt's brain…..
Crew
Supervising Art Director
Editor
Production Manager
Assistant Director
Sound Recordist
Sound Editor
Continuity
Make-up
Hair Stylist
Wardrobe Supervisor
Wardrobe Mistress
Special Effects
Casting Director
Sound Supervisor
Construction Manager
Camera Operator
Director of Photography
Music Composed by
Musical Director
Screenplay by
From an original story by
Produced by
Directed by

Bernard Robinson
Gordon Hales
Christopher Neane
Bert Batt
Ken Rawkins
Don Ranasinghe
Doreen Dearnaley
Eddie Knight
Pat McDermott
Rosemary Burrows
Lottie Slattery
Studio Locations Limited
Irene Lamb
Tony Lumkin
Arthur Banks
Neil Binney
Arthur Grant, BSc
James Bernard
Philip Martell
Bert Batt
Anthony Nelson Keys and Bert Batt
Anthony Nelson Keys
Terence Fisher
Cast

Baron Frankenstein
Anna
Professor Richter
Karl
Inspector Frisch
Ella Brandt
Dr Brandt
Police Doctor
Mad Woman
Guests

Principal
Dr Heidecke
Police Sergeants

Peter Cushing
Veronica Carlson
Freddie Jones
Simon Ward
Thorley Walters
Maxine Audley
George Pravda
Geoffrey Bayldon
Colette O'Neil
Frank Middlemass George Belbin, Norman Shelley, Michael Gover
Peter Copley
Jim Collier
Alan Surtees, Windsor Davies
Footnotes
This was the last production to be designed by Bernard Robinson, whose death in 1970 represented an irreplaceable loss to Hammer. This was also the last film to be produced for Hammer by Anthony Nelson Keys. In 1972, he produced "Nothing but the Night", an unsuccessful occult thriller starring Peter Cushing and Christopher Lee, the only film to come out of Lee's own production company, Charlemagne. After that, Keys retired until his death in 1985. The notorious rape scene was added to spice the proceedings up at the insistence of Hammer supremo James Carreras. It was kept to the absolute minimum by Terence Fisher, who, along with Peter Cushing and Veronica Carlson, felt the whole thing tasteless and unnecessary and detested making it. To make matters worse, the scene was written in after subsequent scenes had already been shot, so Veronica Carlson's character shows absolutely no reaction at all to Frankenstein's attack!

Details were complied viewing the actual film.
Source of viewing copy – The Hammer Graveyard Collection