Vampire Circus – 1972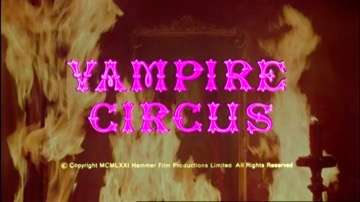 A Hammer production presented by The Rank Organisation and released through Rank Film Distributors limited Copyright MCMLXXI Hammer Film Productions Limited – All rights reserved 
MPAA Approved Certificate
The characters and incidents portrayed and the names used herein are fictitious and any similarity to the name, character, or history of any person is entirely accidental and unintentional
Westrex Recording System
Made at Pinewood Studios, London, England 
Colour by Rank Film Processing 87 mins
Storyline
The folk of the town of Schtettel storm the local castle to destroy the vampire Count Mitterhaus, but as he expires he curses the town, foretelling that it and its children will die to give him back his life. Shortly afterwards, a plague-like illness descends on Schtettel claiming many lives and giving rise to thoughts that the curse is beginning to come true. Then, into this grim situation comes the Circus of Nights, a travelling troupe of performers and animals. At first the townspeople welcome them, pleased to have a diversion from their woes, but it soon becomes clear that this is no ordinary circus, but one with strange and terrifying powers, summoned to the town to help fulfil the dead Count's prophecy.
Crew
Production Supervisor
Art Director
Editor
Production Manager
Assistant Director
Sound Recordist
Sound Editor
Continuity
Make-up
Hairdressing
Wardrobe Supervisor
Construction Manager
Assistant Art Director
Casting Director
Animal Adviser
Dubbing Mixer
Special Effects
Camera Operator
Director of Photography
Music Composed by
Musical Supervisor
Screenplay by
Produced by
Directed by

Roy Skeggs
Scott MacGregor
Peter Musgrave
Tom Sachs
Derek Whitehurst
Claude Hitchcock
Roy Hyde
June Randall
Jill Carpenter
Ann McFadyen
Brian Owen-Smith
Arthur Banks
Don Picton
James Liggat
Mary Chipperfield
Ken Barker
Les Bowie
Walter Byatt
Moray Grant, BSc
David Whitaker
Philip Martell
Judson Kinberg
Wilbur Stark
Robert Young
Cast

Gypsy Woman
Burgermeister
Anton
Mueller
Dora Mueller
Gerta Hauser
Emil
Dr Kersh
Anna Mueller
Hauser
Count Mitterhaus
Elvira
Helga
Michael
Schilt
Rosa
Heinrich
Gustav
Jon
Strongman
The Webers (introducing)
and with

Adrienne Corri
Thorley Walters
John Moulder-Brown
Laurence Payne
Lynne Frederick
Elizabeth Seal
Anthony Corland
Richard Owens
Domini Blythe
Robin Hunter
Robert Tayman
Mary Wimbush
Lalla Ward
Skip Martin
John Brown
Christina Paul
Robin Sachs
Barnaby Shaw
Roderick Shaw
Dave Prowse
Milovan and Serena
Bradforts-Aamros (by courtesy of Billy Smarts Circus)
Footnotes
Actress Lynne Frederick later married comedy actor Peter Sellers. Lalla Ward married actor Tom Baker after first appearing with him as a fellow Time Lord in BBC TV's "Doctor Who". Producer Wilbur Stark was the father of actress/model Koo Stark, who created headlines by having an affair with Prince Andrew. Laurence Payne's part was originally meant to be played by Anton Rogers, but he had to pull out at the last moment owing to illness. This film has the longest prologue of any Hammer film, which, at twelve minutes, is almost as long as one of the Company's earlier featurettes!


Details were complied viewing the actual film.
Source of viewing copy – The Hammer Graveyard Collection