Creatures the World Forgot – 1971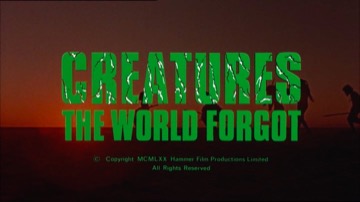 A Hammer production released by Columbia Pictures
Copyright MCMLXX Hammer Film Productions Ltd. – All rights reserved
MPAA Approved Certificate
The characters and incidents portrayed and the names used herein are fictitious and any similarity to the name, character, or history of any person is entirely accidental and unintentional
Westrex Sound System
Made by Hammer Film Productions Ltd., London, England 
Sound Recording at Pinewood Studios London, England
Technicolor 95 mins

Storyline
The Rock Tribe is a group of nomadic Stone Age hunters, who constantly battle with their harsh environment for survival. Their leader has two sons, a good, fair one and an evil, dark one. The fair one becomes the leader of the tribe on their father's death, but a deadly struggle of good against evil breaks out when the dark one challenges his brother's position.
Crew
Production Designer
Editor
Production Manager
1st Asst. Director
2nd Asst. Director
Continuity
Sound Recordist
Sound Editors
Dubbing Mixer
Make-up Supervisor
Hairdressing Supervisor
Wardrobe Master
Wardrobe Mistress
Special Effects
Casting Director
Stills Cameraman
Technical Advisor
Animals
Location Management
Assistant Art Directors
Lighting
Second Unit Cameraman
Camera Operator
Photographed by
Music Composed by
Music Supervisor
Written and Produced by
Directed by 

John Stoll
Chris Barnes
Jack Martin
Ferdinand Fairfax
Simon Peterson
Lolly Walder
John Streeter
Roy Hyde and Terry Poulton
Ken Barker
Bill Lodge
Jeanette Freeman
Roy Ponting
Rosemary Burrows
Sid Pearson
James Liggat
Albert Clarke
Adrien Boshier
Uwe D. Schutz
Sun Salaris
Roy Taylor and Justin Magavin
Mole Richardson
Ray Sturgess
Ernie Robinson
Vincent Cox
Mario Nascimbene
Philip Martell
Michael Carreras
Don Chaffey
Cast

The Girl
The "Fair" Boy
The "Dark" Boy
The Father
The Mother
The Old Crone
The Dumb Girl
The Young "Fair"
The Young "Dark" Boy
The Young Dumb Girl
The Young Lovers
The Old Leader
The Murderer
The Dancer
The Marauder Leader

Julie Ege
Tony Bonner
Robert John
Brian O'Shaughnessy
Sue Wilson
Rosalie Crutchley
Marcia Fox
Boy Gerrard Bonthuys
Hand Kiesouw
Josje Kiesouw
Beverley Blake, Doon Baide
Don Leonard
Frank Hayden
Rosita Moulan
Frank Swart
Footnotes
The film was photographed entirely on location in South Africa. The vast areas of naked flesh are nearly as expansive as the desert locations in this, Hammer's first X-rated prehistoric romp. However, there are no dinosaurs, their extinction this time being due to a lack of budget, rather than to any sudden climatic change or the earth being hit by a giant asteroid. A case not so much of being forgotten as being unaffordable! Julie Ege was a former Miss Norway whose brief film career also included the Marty Feldman comedy, "Every Home Should Have One" (1970) and Hammer's "The Legend of the 7 Golden Vampires" (1974).

Details were complied viewing the actual film.
Source of viewing copy – The Hammer Graveyard Collection