Countess Dracula – 1971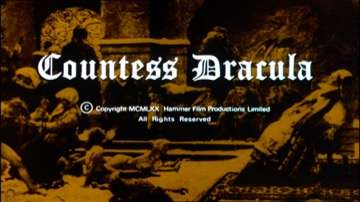 A Hammer production released by the Rank Organisation
Copyright MCMLXX Hammer film Productions Ltd, – All rights reserved
MPAA Approved Certificate No. 22873
The characters and incidents portrayed and the names used herein are fictitious and any similarity to the name, character, or history of any person is entirely accidental and unintentional
RCA Sound System
Made at Pinewood Studios, London, England
Eastmancolor 93 mins
Storyline
In 18th century Hungary, the recently widowed Countess Elizabeth Nadasdy is an aged, embittered crone. After her husband's funeral and the reading of his will, which is not entirely to her advantage, she prepares for bed, not in the best of moods. She loses her temper with a servant girl and lashes out at her, drawing blood which splashes on to her face. Later, the Countess can hardly believe her eyes – the area of skin spattered by the girl's blood has lost all signs of ageing and now appears smooth and young. It is the prelude to the horrifying blood bath to come, as the old woman, becoming increasingly unbalanced, strives to regain and retain her lost beauty and youth.
Crew
Art Director
Editor
Production Manager
Assistant Director
Sound Recordist
Sound Editor
Continuity
Make-up Supervisor
Hairdressing Supervisor
Wardrobe Master
Construction Manager
Dubbing Mixer
Costume Designer
Special Effects
Choreographer
Camera Operator
Director of Photography
Music Composed by
Musical Supervisor
Screenplay by
Story by
Based on an idea by
Produced by
Directed by

Philip Harrison
Henry Richardson
Christopher Sutton
Ariel Levy
Kevin Sutton
Al Streeter
Gladys Goldsmith
Tom Smith
Pat McDermot
Brian Owen-Smith
Arthur Banks
Ken Barker
Raymond Hughes
Bert Luxford
Mia Nardi
Ben Withers
Ken Talbot, BSc
Harry Robinson
Philip Martell
Jeremy Paul
Alexander Paal and Peter Sasdy
Gabriel Ronay
Alexander Paal
Peter Sasdy
Cast

Countess Elizabeth Nadasdy
Captain Dobi
Imre Toth
Master Fabio
Ilona Nadasdy
Julia (the Nanny)
Captain Balogh
Ziza
Sergeant of Bailiffs
Rosa
Teri
Clown
Gypsy Girl
Janco
Priest
Second Cook
Kitchen Maid
The Seller
Bertha
Pregnant Woman
Man
Young Man
Belly Dancer
Gypsy Dancers
1st Boy
2nd Boy
Circus Midgets

Ingrid Pitt
Nigel Green
Sandor Eless
Maurice Denham
Lesley-Anne Down
Patience Collier
Peter Jeffrey
Andrea Lawrence
Leon Lissek
Jessie Evans
Susan Brodrick
Ian Trigger
Nike ArrighiI
Peter May
John Moore
Joan Haythorne
Marianne Stone
Charles Farrell
Sally Adcock
Anne Stallybrass
Paddy Ryan
Michael Cadman
Hulya Babus
Lesley Anderson, Biddy Hearne, Diana Sawday
Andrew Burleigh
Gary Rich
Albert Wilkinson, Ismed Hassan

Footnotes
Despite its pretensions to fiction in the opening credits, "Countess Dracula" may have its roots in fact, being based on the legend of a certain 17th century Hungarian noblewoman called Elisabeth Bathory. Alexander Paal had previously co-produced (with Michael Carreras) two films for Hammer, "Mantrap" (1952) and "Four-Sided Triangle" (1953).

Details were complied viewing the actual film.
Source of viewing copy – The Hammer Graveyard Collection