Taste the Blood of Dracula – 1970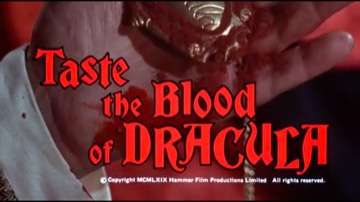 A Hammer Film production released through Warner-Pathe Dimibutors Limited (UK) and Warner-Seven Arts (USA)
Copyright MCMLXIX Hammer Film Productions limited – All rights reserved
MPAA Approved Certificate No. 22364
The characters and incidents portrayed and the names used herein are fictitious and any similarity to the name, character, or history of any person is entirely accidental and unintentional
RCA Sound Recording
Produced at ttle Elstree Studios of Associated British Productions Ltd, Hertfordshire, England
Technicolor 95 mins
Storyline
Work on the London Underground at Hobbs End is halted when a strange, dwarf-like skeleton is found. Scientists are called in, headed by Dr Roney, and further diggings reveal something metallic buried in the mud. Thinking it to be an unexploded wartime bomb, Roney informs the Ministry of Defence and Professor Quatermass and Colonel Breen inspect the object. Breen is convinced that the thing is a German secret weapon, but Quatermass suspects something far more sinister. Given the history of the area, where for centuries sightings of 'demons' have been reported, he believes that forces from another world have been at work – forces which could still wreak havoc!
Crew
Art Director
Editor
Production Manager
Assistant Director
Sound Recordist
Sound Editor
Continuity
Make-up Supervisor
Hairdressing Supervisor
Wardrobe Master
Special Effects
Dubbing Mixer
Recording Supervisor
Construction Manager
Director of Photography
Music Composed by
Musical Supervisor
Screenplay by
Based on the character created by
Produced by
Directed by
Scott MacGregor
Chris Barnes
Christopher Sutton
Derek Whitehurst
Ron Barron
Roy Hyde
Geraldine Lawton
Gerry Fletcher
Mary Bredin
Bruno Owen-Smith
Brian Johncock
Dennis Whitlock
Tony Lumkin
Arthur Banks
Arthur Grant, BSc
James Bernard
Philip Martell
John Elder
Bram Stoker
Aida Young
Peter Sasdy
Cast

Count Dracula
William Hargood
Martha
Alice Hargood
Samuel Paxton
Lucy Paxton
Jonathan Secker
Jeremy Secker
Paul Paxton
Lord Courtley
Weller
Maid
Cobb
Felix
Father
Son
Vicar
Dolly
Chinese Girl
Snake Girl

Christopher Lee
Geoffrey Keen
Gwen Watford
Linda Hayden
Peter Sallis
Isla Blair
John Carson
Martin Jarvis
Anthony Corlan
Ralph Bates
Roy Kinnear
Shirley Jaffe
Michael Ripper
Russell Hunter
Keith Marsh
Peter May
Reginald Barrett
Maddy Smith
Lai Ling
Malaika Martin

Footnotes
The American distributor would not accept Hammer's original idea to have a Dracula film without Dracula and it took quite a lot of persuasion to convince Christopher Lee to resurrect a character with which he was becoming increasingly disenchanted. This was the first of three films directed for Hammer by Hungarian Peter Sasdy, the others being "Countess Dracula" (1970) and "Hands of the Ripper" (1971). For Christopher Lee's Charlemagne company, he also directed "Nothing but the Night" (1972, starring Lee and Peter Cushing). This was also the first Hammer film for actor Ralph Bates, who later appeared for them again in "The Horror of Frankenstein" (1970), "Lust for a Vampire" (1970), "Dr Jekyll and Sister Hyde" (1971) and "Fear in the Night" (1972). He later starred in BBC TV's sitcom "Dear John", before his premature death in 1991. He was married to actress Virginia Wetherell, who appears in Hammer's "Dr Jekyll and Sister Hyde" and "Demons of the Mind" (both 1971). Linda Hayden enjoyed a short career in horror films and also appeared in Tigon's "Blood on Satan's Claw" (1970) and the American International/Amicus co-production "Madhouse" (1974, starring Peter Cushing and Vincent Price).

Details were complied viewing the actual film.
Source of viewing copy – The Hammer Graveyard Collection